BC2403 Charger + (2) VMAX V06-43 12V 6AH Battery for Razor E100 Electric Scooter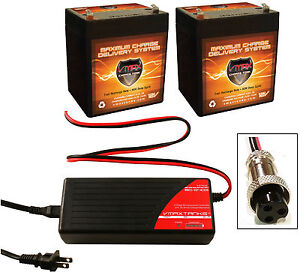 ---
Battery Pack + Charger!Upgrade the batteries and charger for your Razor E100 for longer run times, faster charging, and better performance!2 VMAX V06-4312-Volt 6Ah AGM Deep Cycle Battery(Upgrades 4Ah, 5Ah batteries)High quality, high performance AGM batteries increase your run timeVoltage: 12 VoltCapacity(Amp Hours @20-Hr Rate): 6AhRC (min): 12Terminals: F1 TerminalsDimensions (inches): 3.5"w x 2.75"d x 4"hWeight: 4.5 lbsCharging Current: 0.5A-2A (a smart charger is recommended)Charging Voltage: 14.4V-14.9VFloat Voltage: 13.5V-13.8V 

Features:

AGM Electrolyte Suspension SystemMaintenance free OperationNo Dangerous Fumes or GasesFast Charge Delivery CapabilitiesCustom Built Military Grade AlloysExtremely Low Self Discharge RateApproved for Mobile, Maritime and Air TravelExtreme Vibrations, Heat and Weather resistantSealed, Non-Spillable, Non Hazardous ConstructionMaximum Power Density and Deep Cycle Capabilities

Charging Options:

Smart / Microprocessor controlled charger: Battery Charger GuideAlternator: 14V-15VSolar Panel: 10W-30WCharge controller: 1A-10A

Operating Temperature Range:

Discharge: -4~140FCharge:     14~140FStorage:     -4~140F

Temperature Compensation:

Cycle use: -30mV/CStandby use: -20mV/C

+BC2403 + 3 Pin Female Connector: VMAX BC2403 24V 3 Amp 4-Stage Smart Battery Charger and Maintainer

24 Volt 3 Amp Charger for 24V AGM, Gel, SLA, and FLA batteriesLED indicator lights show charging status and battery levelAuto-detect feature recognizes battery type and status, won't overcharge your batteryEasy to use, plug it in and forget it! Charges, maintains, and retores your battery.Includes XLR 3 pin female connector, please see our store for other types of connector cables

Specifications: Input Voltage: 110VAC Input Current: 1.6A Nominal Voltage: 24V Bulk Charge Voltage: 29.4V Bulk Charge Current: 3A Connector: Insulated XLR 3 Pin Female Connector Battery Type: SLA, GEL, AGM Battery Capacity: 9-60Ah Enclosure: IP54 Size: 6.7 L x 2.8" W x 2" H Weight: 14.5 oz. How to use: 1. Connect the AC cord to AC outlet. The "power" LED will light on solid. 2. Connect positive charger clip (red) to positive battery terminal, the black clip to negative. The "25%~100%" LEDs will light in a sequence. If the batteries polarity is reversed or output is shorted, all LEDs will flash simultaneously, DISCONNECT & CHECK. 3. Depending on the charged capacity, 25%~100% LEDs will light up solid. When all are ON, the battery is fully charged. You can disconnect the battery to use OR keep it connected to charge in float mode. If battery stays at Stage 2 after 24 hours of charging, then the battery is defective.

All VMAXTANKS AGM batteries feature:

Sealed ConstructionThe unique construction and sealing techniques of VMAX tanks guarantee leak proof operation in any position with no adverse effect to capacity or service life. VMAX tanks are classified as non-spill able, non-hazardous, dry batteries making them NOT restricted for Surface, Maritime and Air Transport.Electrolyte Suspension systemVMAX tanks utilize an electrolyte suspension system consisting AGM (Absorbed Glass Matt) of a high porosity that totally absorb and contain the electrolyte. No silica gels or any other contaminants are used.Maintenance Free Operation There is no need to check specific gravity of the electrolyte or add water to VMAXTANKS™ during float service life.Reliable, Rugged ConstructionThe extra strong ABS container reduces case bulging and plate warping, ensuring long life and high performance.Low Pressure Valve Regulated SystemAll VMAXTANKS™ are equipped with safety release valves, designed to operate between 0.98-196.1kpa and automatically reseal. Hence, there is never an excessive accumulation of gas within the battery.Heavy Duty Military Grade GridsHeavy duty lead tin alloy grids provide an extra margin of performance and service life in either float or cyclic applications, even after repeated over discharges.Cyclic Service LifeVMAX is known to deliver one of the highest numbers of discharge / recharge cycles. Depending on the use and average depth of discharge it can offer an average of:

| | |
| --- | --- |
| Number Of Cycles | Depth of Discharge |
| 300 | 100% |
| 600 | 75% |
| 900 | 50% |
| 1500 | 25% |
| 3500+ | 10% |

Float Service LifeVMAXTANKS™ have an expected life span of 8 to 10 years in float service applications.Low Self Discharge The self discharge rate of the new VMAX tanks at room temperature is approximately 1-2% of rated capacity per month (compared to 2-3% for most other AGM batteries and 15-20% for Lead Acid batteries).Operating Temperature VMAXTANKS™ may be operated over a broad range of ambient temperatures.Ultra Low ResistanceVMAXTANKS™ Ultra Low Resistance make it up to 99% efficient (compared to 85-95% as in Lead Acid Batteries and 97% in most other GEL and AGM batteries).Higher Power Density A special assembly technology is used to enhance power density to a considerable level.Don't settle for an average Lead Acid Battery, upgrade to a Vmaxtank premium AGM battery!